Is a housing crash in the UK inevitable?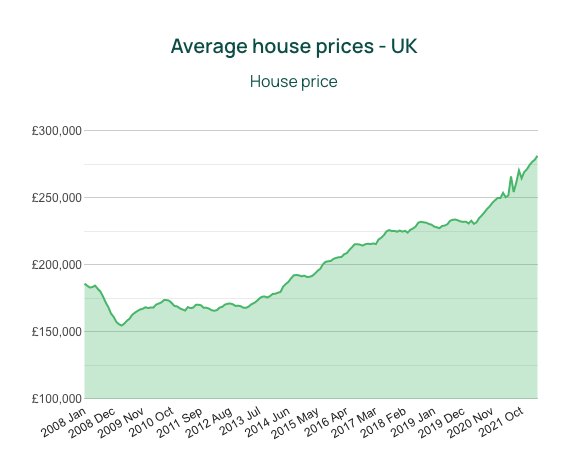 While the UK property market has been in rude health in recent years, there are growing concerns in some quarters that a housing market crash could be just around the corner. Since the coronavirus pandemic, house prices in the United Kingdom have increased by over £55,000 on average.
Of course, the property market enjoyed something of a kickstart during the pandemic, as government measures like the temporary scrapping of stamp duty helped to drive sales during an economic downturn. Now that the stamp duty holiday is over, some investors are expecting the market will witness a slump in prices in the near future.
Is the housing market overheated?
Some economists consider the UK housing market to currently be overheated. This is due in part to the lack of new builds required to house a population that continues to grow year on year. As a result, many would-be first-time buyers are finding it impossible to make it onto the first rung of the property ladder.
While first-time buyers can't quite get a foothold on the property ladder, existing homeowners and buy-to-let investors are continuing to make purchases, leaving millennials as "generation rent". However, recent statistics have shown that it's not just young professionals finding themselves renting. Increasing numbers of people over the age of 60 are renting, with the number of people of pensionable age in rented accommodation having doubled over the past twelve years.
When will house prices fall?
There is speculation that, after a particularly strong start to the year, the housing affordability crunch will begin to have an impact on market behaviour towards the end of 2022. Interest rate rises are expected during this period, coupled with greater market choice as increasing numbers of properties make their way onto the market. This potentially means investors might expect minor month-on-month price dips during the final quarter of the year. However, it is worth noting that all investment is speculative, and housing market crash predictions are exactly that - mere predictions, of which time will tell whether they were accurate or not.
Some investors and economists are speculating that house prices will fall in the last quarter of 2022, albeit by less than they have appreciated in value over the past twelve months. Squeezed incomes and rising mortgage rates are expected to play a role.
Is there a housing bubble in the UK?
Property prices in the UK have hit record-breaking prices over the past two years, and even the soaring cost of living hasn't dampened our appetite for property investment. Housing market predictions can be tricky, and while some might consider the current situation as a housing bubble ready to pop, it's worth noting that in times of recession, house prices tend to fall. It's only natural. This has nothing to do with a bubble, and everything to do with the circumstances we find ourselves in whenever a recession occurs.
Recession brings with it a higher risk of unemployment, coupled with a higher cost of living. This means that prospective first-time buyers find themselves inevitably being unable to purchase a home, or even begin planning to.
However, buy-to-let investors can always gain from such circumstances, provided they have the capital to make a purchase. While recession tends to create market uncertainty (which means traditional lenders like banks are more reluctant to fund mortgages), buy-to-let investors can always use existing property as capital to fund further investment, at a time when house prices are low.
Is the UK housing market going to crash?
While the cost of living crisis and high inflation might deter would-be investors from purchasing property, there is still no clear evidence of an inevitable housing market crash in the UK. With UK house prices forecast to dip towards the end of the year, a slight slump does not in itself constitute a "crash" in the sense we experienced in 2008.
For context, the 2008 recession is considered to have occurred after too many mortgages were issued to individuals who were unable to keep up with the payments - not just in the UK, but by major international banks, which in turn had a knock-on effect on the world economy. Many banks closed down overnight, with others having to be bailed out.
This resulted in the average house price falling by around 15% over a twelve-month period. Many homeowners found themselves in negative equity - where the price paid for a property is less than it is worth.
By comparison, some economists speculate that house prices could fall by around 5% by 2023. This is after a 12% surge in property prices over the past twelve months, which would indicate that if a fall in house prices does happen, it will hopefully be nowhere near the crisis levels of 2008.
Will UK house prices drop in 2022?
Speculation suggests that there could potentially be a housing market crash in 2022. A rise in the prices of fuel, energy and food has hit households hard, with many struggling to keep up with day-to-day living costs, or alternatively having to adjust their budgets accordingly.
The Bank of England has predicted that inflation could reach 10% by the end of 2022. By May of this year, inflation had already reached 9%, which means that predictions appear to be on track - but what exactly does this mean for the UK housing market?
In all honesty, it can be difficult to say. There is no hard and fast rule of prediction when it comes to property prices and a potential housing market crash - merely speculation. History doesn't tend to repeat itself as far as the markets are concerned, and tangible assets like housing are traditionally favoured by investors during times of economic hardship. This ultimately means that property prices tend to maintain stability.
Despite inflation and a rise in the cost of living, house prices have continued to rise with consistency. In fact, the United Kingdom has recently enjoyed its longest continuous house price increase for six years. This is in part due to low mortgage rates, although there are concerns that inflation will increase such mortgage rates, which could deter some - but not all - property investors.
At a glance: what could cause house prices to fall this year
While it is unlikely that house prices will crash in the sense that new homeowners will be left in negative equity, there is a possibility that they could fall slightly. While it's true that house prices have increased by over £55,000 on average in the past two years alone, the following circumstances could cause a slight fall in property prices between now and the end of the year:
Cost of living crisis: As inflation rises, goods and services are becoming marginally more expensive compared to just one year ago. With more of us feeling overstretched, many would-be investors might feel like now is simply not the right time to buy.
Rising energy/fuel costs: Those struggling to meet fuel costs in order to go about their daily business might consider downsizing or selling up to make ends meet. This means the housing supply will increase, and the law of supply-and-demand suggests this could cause property prices to fall slightly.
Market correction: Property prices rose extremely quickly during the pandemic, and some economists predict a "correction" could be on the cards, whereby the prices will fall just as quickly as they increased.
Rising interest rates: Interest rates have soared from record lows, which could make mortgages more expensive. Increased mortgage rates could reduce demand.
General uncertainty: Despite most of the economy opening back up, there is still uncertainty as to whether the Covid-19 pandemic is over, or whether new variants could create the need for further restrictions in the wintertime. In addition to this, political uncertainty in Eastern Europe could also cause some investors to be apprehensive.
Ultimately, it depends on the economists you listen to - some are predicting a small yet not inconsiderable fall in property prices, while others think the UK property market will weather the storm.
UK house prices forecast: find out more about housing market predictions
If you'd like to keep up to date with UK property prices by postcode, or if you would like access to a wealth of data which could be used to make more informed property investment decisions, why not sign up to PropertyData today?
You can take advantage of a two-week free trial and have access to tools, resources and calculators which could help you decide whether an investment could be worthwhile.
Sign up to PropertyData for free