Why is it important to have a quality boiler installed in your property?
Having a highly efficient and reliable boiler installed in your property has never been so important – your boiler is responsible for heating the property in winter and running your hot water all year round.
At a time of high energy prices, an efficient boiler is an essential investment for any landlord or investor.
Ideally, you want to know that you can fill the bath as high as you want without worrying about the extortionate gas prices too much and that it won't break down halfway through.
Getting the right boiler & installation team matter
To get a reliable boiler, it is crucial to select the right product and have an experienced installer.
Because some jobs are more complex than others, such as boiler conversions where you would change from a boiler with a tank to a combi boiler, you 100% need to know the job is done right the first time.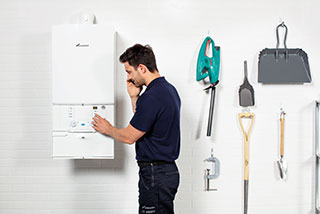 On the other hand, simple boiler swaps between boilers of the same type can be done in just a few hours by people who know what they're doing too which would mean far less disruption in your busy schedule.
If you are considering a new boiler then the length and complexity of the installation will depend on your requirements. If you are also unsure what boiler you need you can contact expert boiler installation companies such as Boiler Central that specialises in gas boiler replacement from combi boiler swaps to back boiler conversions.
Looking after your boiler is important
If you have decided to get a new boiler then it is so important to look after it to maintain efficiency, and also if you are selling your property, the prospective buyers may be interested to know how well it is looked after with service logs and if it is still in warranty or not.
To preserve the guarantee, a boiler service must be performed each year. To maintain the guarantee, a boiler service must be performed each year. This service includes a review of the boiler's performance, safety and installation. We recommend you call the boiler installer to schedule an appointment. To avoid getting cold in winter, this can be done during the summer.
What if you are selling the property soon?
The boiler should not be forgotten when you sell and your property value could be increased by replacing the old inefficient boiler with a modern boiler. The property's heating bills will drop if you buy a new boiler too so you might see some benefits prior to selling up.
This guide will help to remember everything you need to know about heating, boilers and energy when buying property.
Make sure you inspect the boiler before you purchase.
A brand new boiler is a must when you purchase a property. It is a benefit to have a boiler installed less than 4 years ago – you don't want to have to get the boiler repaired as your first maintenance job.
Ask when the boiler was installed. These questions can be answered while you're talking about the boiler.
Who installed the boiler?
Taking note of who fits the boiler in your property can help. If it was a reputable boiler installation company such as Boiler Central then it can mean extra peace of mind to the new owners.
Which type of boiler do you own?
People love the Worcester Bosch or Ideal boiler brands. The more well-known the brand the more likely people will be happy with the installation.
What was the most recent service?
To prove each service, get certificates from the Gas Safe registered engineer every year.
Are you still covered under warranty?
Keep a track of the boiler's warranty. Most new boilers in the past 5 years have come with a 10 years guarantee which can be passed on to new owners.
Why are these boiler-related questions important?
These questions will tell you how reliable and efficient your boiler is. These questions will also reveal how long it takes to replace your boiler.
It is a smart idea to keep track of the date for the next boiler service.
A certificate that demonstrates compliance with building regulations should be provided by the vendor. The Gas Safe Register or OFTEC if you have an oil or solid fuel boiler, issues this certificate at the time that the boiler was installed. This certificate will enable you to confirm that the boiler was installed in accordance with regulations.
It is important to make sure you have an adequate boiler cover
It is also important to make sure your central heating and boiler are adequately covered for any breakdowns or problems.
Check with your company to find out more information. Companies like Boiler Central offer great boiler cover plans that include a free annual boiler service. If you are buy a new property, it is a good idea to get boiler insurance. This will cover you in the case of a boiler bursting or causing damage.
Is it possible to move my boiler to my new house?
It could theoretically be possible. It isn't the best idea though and is very rarely something that happens.
It is better to ensure that the condensing boiler in the house you're moving into is up-to-date. It is essential that your property has a reliable and efficient heating system. A new boiler could increase the property's worth.
What is a new boiler good for?
A new condensing boiler could add to the value of your property and attract potential buyers. Prospective buyers will know that they won't have to replace their boiler for a long period of time and heating bills will be lower if the boiler is more efficient.
Getting a replacement boiler is definitely worth it. It is especially appealing when you consider that to replace a boiler, you would need to spend between £1,000 and £3,500. But you could increase your property value up to £8,000 and save on gas bills in the meantime
My boiler is in danger. Can I still sell my property?
Boilers that are condemned could pose a risk to your health. Replace a boiler that is inoperable if you have it. You can still sell your house even if your boiler has been condemned. This could decrease the property's worth by a substantial amount and also it could be picked up in a survey of the potential buyer's mortgage lenders. Buying a new house is a big decision and boilers should never be forgotten about as they play a huge part in keeping your property comfortable and warm all year round.
Sign up to PropertyData for free